Major investments are coming to Sounder South
Ridership on Sounder South commuter rail is increasing, and we expect this to continue as more people move to our region. To help meet growing demand, in 2016 voters approved the Sounder South Capacity Expansion program as part of Sound Transit 3.
Sound Transit is considering options to expand capacity so more people can ride Sounder. Improvements may include additional daily trips, longer trains (to carry up to 40% more people) and station updates to accommodate longer trains and more riders.
Additionally, within the next two decades, Sounder South service will extend further south to Tillicum and Dupont.
We need your input for the strategic plan
The first step to expand Sounder South capacity is creating a strategic plan that identifies specific improvements and a schedule for implementation.
We've done initial analysis on possible Sounder South improvements and now we want your feedback to help inform the draft strategic plan. Browse this site to learn more about the project, then take the survey by September 24 to tell us about your priorities.
Sounder South service today
Current service
The Sounder South train line gives Pierce and South King County residents a dependable, traffic-free commute option between Lakewood and Seattle. Currently, we operate 13 round trip trains each weekday between Tacoma and Seattle (eight of which continue to South Tacoma and Lakewood), with trains running every 20 minutes during peak commuting hours.
Special event trains
Sounder South also serves select Seahawks, Mariners and Sounders FC games and other special events on weekends, such as the Washington State Fair.
See our event calendar for upcoming opportunities to ride Sounder to a weekend event or explore Seattle for a few hours without having to drive. Read our blog post on weekend trains for more information.
Growing ridership
Sounder South now serves more than 16,000 riders each weekday. We serve the most riders traveling northbound during the morning commute and southbound during the evening commute. On some of our busiest trains, high demand means it can be difficult to find a seat. Fewer riders take the reverse-commute trains (e.g., southbound from Seattle during the morning commute) and the midday trains.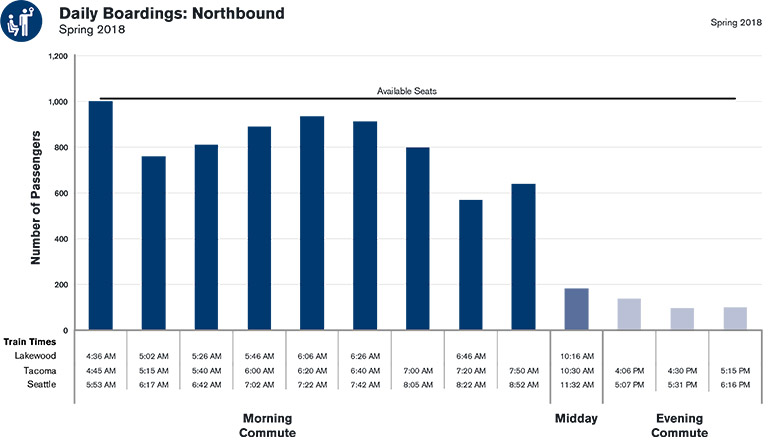 Ridership has been growing steadily. When we forecast our ridership trends out to 2042, we see demand from riders exceeding the capacity of our current system – especially during our busiest commute hours.
Key constraints that are unique to Sounder
People often ask why Sounder South doesn't run more often, similar to light rail. Sounder is different, and constraints in the Sounder South corridor make it difficult to increase service. Read more about these considerations below.
How do we expand service to serve more riders?
To find the best strategy for expanding Sounder South capacity over time, we're analyzing several different scenarios. This analysis helps us compare potential changes to weekday service and better understand potential trade-offs. We will likely combine one or more of the potential changes to maximize benefits for growing ridership.
Additional trips
Adding more train trips to the daily schedule
Span of service
Expanding our morning and evening commute period and exploring later evening service to provide more options for riders
Frequency
Compressing the train schedule so trains run every 15 minutes instead of every 20 during peak periods (trains run less frequently outside of the peak as a result)
Longer trains
Increasing the length of our trains from 7 to up to 10 cars to carry more passengers (approx. 430 more seats)
Exploring trade-offs
Each of these potential service changes have important trade-offs to consider, between added capacity, cost, and schedule reliability. Our final plan for expanding Sounder South capacity will likely be a combination of the best performing options we've studied.
Whatever expansion strategy we choose, the service changes won't happen right away. Once we identify a preferred plan, we'll need to work with BNSF to negotiate a new agreement and conduct an environmental review to measure and mitigate potential impacts from the changes. The improvements will then be rolled out over time.
The Sounder service you rely on will continue as we plan for even better service in the future. Take our survey to share your feedback.
Accommodating longer trains to serve more riders
Current Sounder South trains operate with 7-car train sets. As one potential strategy for expanding capacity, we're evaluating the possibility of running up to 10-car trains, which would enable us to serve up to 40 percent more riders. To accommodate longer trains and more people using the station platforms, we may need to build longer platforms and make additional station improvements to make sure getting on and off the train is as comfortable and easy as possible.
What might change at the stations?
Sound Transit will identify station changes to accommodate longer trains and more riders depending on which options for adding capacity are selected and remaining available funds.
We will prioritize building a longer platform or better distributing passengers along the length of the train to ensure passengers can easily reach the train and find a seat. We'll ask questions to consider other potential changes, such as:
Where do we need lighting, shelters, and wayfinding signs on the longer platforms?
Do we need new elevators, stairs, or pedestrian bridges to help people move around the station?
Are there sidewalks connecting pedestrians to where they want to go?
Are ADA parking spaces, bus stops, and pick-up and drop-off areas conveniently located?
Are there enough bike racks or lockers close to the platform?
Each station is unique, so changes at one station may not be made across all stations. King Street Station is especially constrained, so we're investigating potential changes to improve platform capacity and pedestrian circulation at the station. 
Take our survey by September 24!
Whether you're a regular Sounder rider, a potential rider, or a community neighbor, please consider taking a few minutes to complete a survey below to help us learn more about you and your priorities for expanding Sounder South capacity.
Public events
We're coming to you! Visit us at local events to talk with staff and share your ideas in person.
Next on the Sounder South Capacity Expansion program, we'll draft a strategic plan for system improvements based on our analysis to date and what we've heard from the community during this outreach. We'll do more outreach in the next few months to share how community feedback was incorporated into the draft plan. Follow along by signing up for email updates.
We expect to have a final strategic plan by early 2020. Once we identify a preferred plan, we'll need to work with BNSF to negotiate a new agreement and conduct an environmental review to measure and mitigate potential impacts from the changes. These steps will determine final decisions on any changes to Sounder South service times or additional trains. We will start implementing the improvements in the plan on a rolling basis through 2036.

Related projects
Click on the topics below to expand for more information and resources.